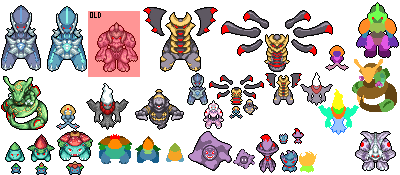 In the past, I made a piece full of itty-bitty chibi Pokémon. Well, I decided to take a couple and scale them up to 2x and make double-sized versions of them. Chances are you may have seen one on deviantArt or in my signature.
I started with Altered Giratina, and just kept making them. I don't feel super happy with Uxie or Palkia really, but I feel really good about Giratina and Dusknoir. I keep adding more to the piece, and the latest are the Bulba line, Gastly, and the Misdreavus line.
This is just what I have so far. Included are a few of the small-scales and some WIP pics of them before shading.
I'll probably update my rotating signature faster than this page, so uh, look there first. A new sprite on every refresh! More to come soon.
EDIT: Palkia fixed!
Edited by Ego, 30 November 2010 - 12:02 AM.