Wow, I have new pixels and it's NOT a dragon! Feels weird not to have a dragon to share at the same time.
Anyway, been in a bit of a rut pixel-wise lately so crackerss on deviantArt inspired me to do one of Arachne's (www.retinaleclipse.com/index.html) linearts. I've also had this urge to use Dawnbringer's now-award-winning palette (
http://www.pixeljoin...s.asp?TID=12795
) so I figured I'd put them together. After like three works of touching it and leaving it alone and coming back to it, this came out:
So yeah. It's pretty creepy - everything Arachne does is. I like how it came out. There were a few issues (Dawnbringer's palette looks quite strange up close, but when zoomed to normal 100% it looks really good), but I think the overall result is quite good. Here's a couple of my issues here:
* Depth. In general this is fine, even better than much of my work, but I gave the maw area too much brightness to be that far back. It's the focal point of the image though, so I think I'm justified.
* Sloppiness. A number of the lines aren't evened perfectly, but I think in some ways this looks more organic than if the lines were perfectly smooth. It's a judgement call though, some of them could use some polish.
* Texture. While the texture is quite consisent in most spots, the front leg is weirdly textured. The upper half seems TOO textured, while the bottom half doesn't have enough. Oh well.
I'll mention that things I DO like include the wrinkled texture that covers it in general, and the way the palette seems pretty agreeable to sit over just about any background color.
There's actually an alternate version of this piece. I was on the fence whether or not to use an additional color, so I made this alternate with it. I think it looks different, but I'm not sure which is better so I went with the fewest colors. Here: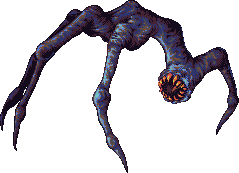 Makes it less monochromatic and more dirty/creepy/icky looking, plus it ties the orange teeth into the palette better.
Done with The GIMP in ~5 hours of dedicated work, 10(or 11) colors plus transparency, small crits will be implemented and large crits will be considered and used in future pieces but will not likely result in major revision. Lineart by Arachne, palette by Dawnbreaker.
So, any feedback?