Alrighty, now for the long awaited news:
A beta uploader has been developed. That said, it's a bit tricky to use at the moment, however it is there.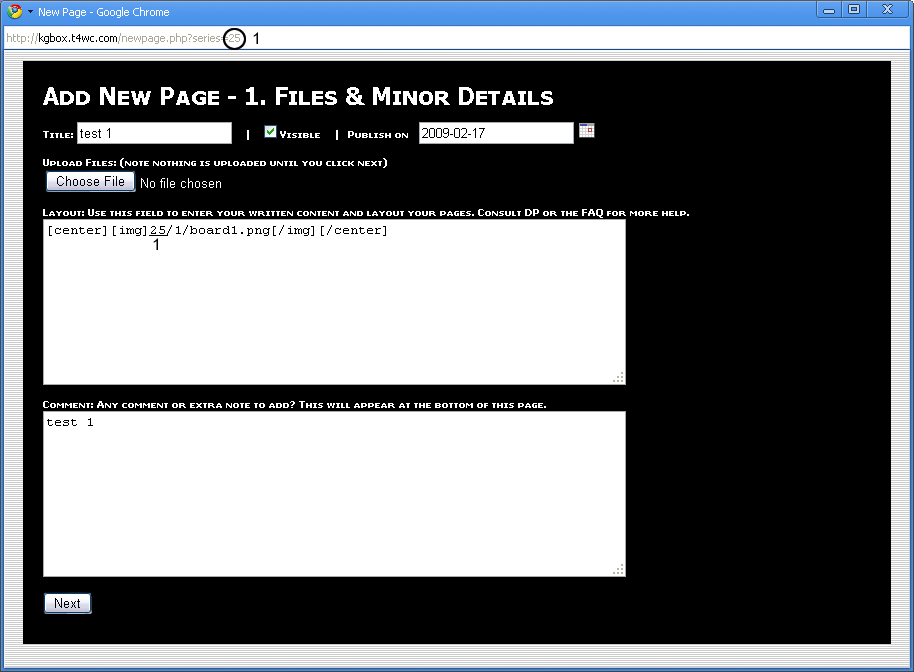 For those of you who are uploading images and other files into the archives, take note of Exhibit "1".
You series are now indexed by numbers - the circled number in the address bar is the ID of the series that the page is being added to. Therefore, the format to link your uploaded content is as follows:
seriesID/pagenumber/name of file.extension
Until I implement a more friendlier interface, you'll have to keep note of the number of the new page being made (1+ the current number of pages in that series).
For those of you that are submitting content with text only, copy and paste your content into the layout text area and hit next when ready. You will get a message that says "files not uploaded" in the results, but that's fine - you weren't uploading anything to start with =P
---
Keep in mind, this uploader is still in beta mode, therefore it's a "use at your own risk". You may access the uploader through the "edit" link in the Author control panel.
Things to note:
- The "+" button is what opens the above window.
- If you are uploading pictures, you MUST link the image before clicking "Next", or you'll have to wait until the editor comes online.
- Alternatively, you can flip the bird at the uploader and hotlink the images from photobucket or image shack for the time being.
- The editor will be available soon. In case you get curious, the little button with the paper is the button that will open the editor.
- The comments placed in the comments field are recorded and stored. You just can't see them on the pages yet (not yet implemented).
- Same deal with the title (though you can see it on the list).
- Not sure if the "is visible" option works correctly yet. This option will make the page invisible indefinitely until you turn it back on.
- A delete button will be added soon.
- Sometime tomorrow, I will pop all of the accounts into the testing series as collaborators - just so you can see what all this jibber jabber on collaboration is.
- You can see the results of the above image
here
.
----
Good night!